I like to think that most of the flavour from the 'cochinita pibil' is in the marinade and garnishes, and of course a good tortilla😋… like those from La Tortilleria 🥰
For this recipe I used jackfruit because once cooked it "pulls", but it can be replaced by tofu, textured soy or your favourite mushroom☝️
These tacos🌮 are usually accompanied by pickled red onion slices with chopped habanero🔥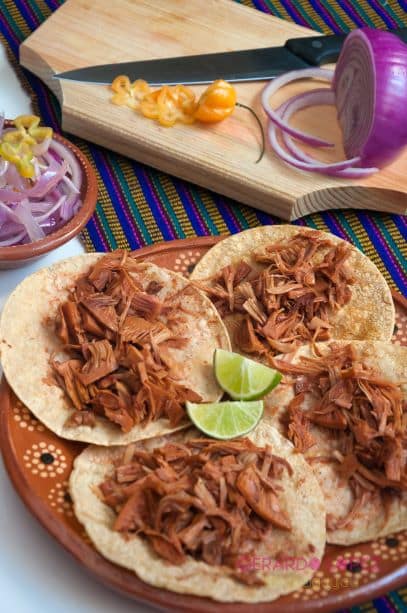 Jackfruit Pibil Tacos
Tacos veganos de cochinita pibil
A vegan version of the popular 'cochinita pibil' from the Yucatán Peninsula in the south of México.The traditional recipe uses pork and for this recipe, I have replaced it with jackfruit which has a similar consistency and also "pulls".The pickled onion with habanero is one of my favourite garnishes.
Print Recipe
Ingredients
8

corn tortillas

preferably from La Tortilleria

1 1/2

kg

fresh jackfruit

replace with canned jackfruit (drained), firm tofu, hydrated textured soy, or mushrooms

70

g

achiote paste

also referred to as annatto

1

cup

orange juice

1/2

cup

vinegar

1

tsp

Mexican oregano

substitute with Marjoram

5

peppercorns

5

garlic cloves

1/2

white onion

replace with yellow or red

Salt to taste
Garnish
1

red onion

1

habanero chilli

1/2

orange juice

1/2

cup

vinegar
Instructions
Cut the jackfruit into small pieces, remove the shell, seeds and yellow pulp. Rinse it thoroughly and cook in a frying pan with water over medium heat with a little bit of salt until boiling, and then let it cook for another 20 minutes.

Squeeze the oranges and blend 1 cup with achiote paste, 1/2 cup of vinegar, Mexican oregano, pepper, garlic cloves, half onion and salt to taste.

Strain the jackfruit to remove the excess water and bathe it with the achiote marinade, let it sit for a few minutes.

Meanwhile, in a bowl, add the onion sliced, habanero chopped, orange juice, vinegar and salt, cover-up and place in the fridge whilst cooking the jackfruit.

Pour the marinated jackfruit in a saucepan over low heat and cover, including the marinade, and cook for 1 hour, then shred the jackfruit with two forks and cook for 15 more minutes so that the flavors are well incorporated.

Re-heat the corn tortillas and fill them with the jackfruit adding the pickled onions and habanero on top.

¡Buen provecho!
Related Post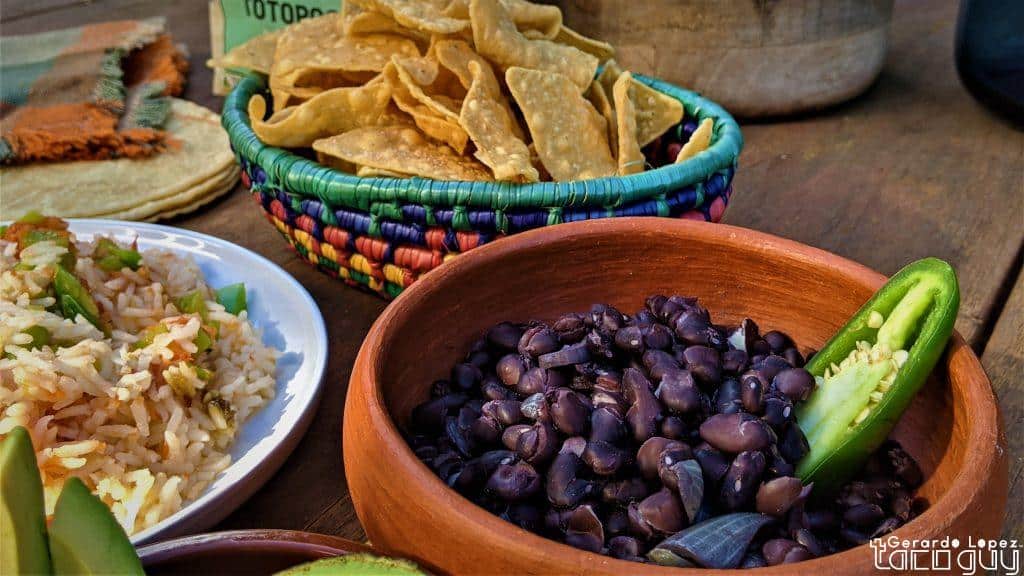 Mexican Black Beans
Frijoles de Olla
Other Recipes