These days I have really been craving some 'chiles rellenos'😋 – translated as stuffed chillies. But since poblano chillies are is not in season in Australia🇦🇺, I used its dry version which is easier to get.
The ancho chilli🌶 is a dried poblano, and although it is not very spicy, it is one of my favourites for salsas along with the chipotle, which is the dry version of the jalapeño.😁
This recipe not only combines two of my favourite dried chillies, but it is also very simple to prepare and has a spectacular sweet and smoky flavour🤩👌
What filling do you prefer to use for the stuffed chillies?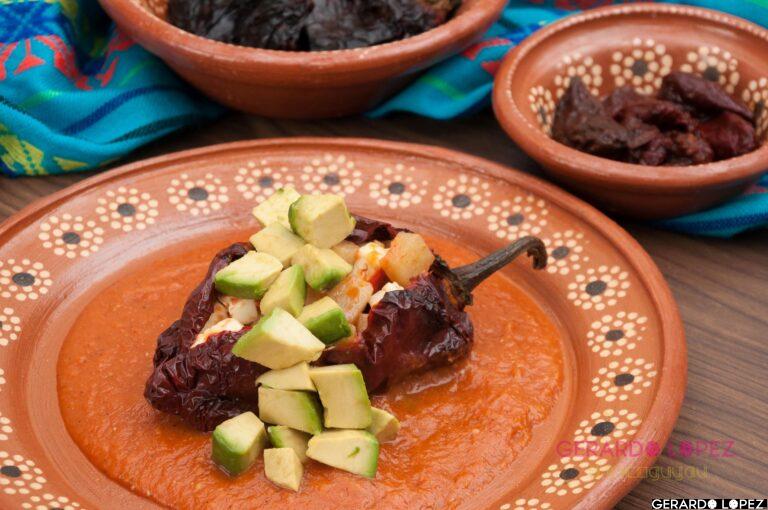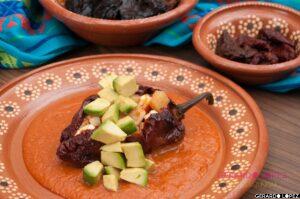 Stuffed Ancho Chillies
Chile ancho relleno en salsa de chipotle
Stuffed Chillies, known as 'chiles rellenos' in Spanish, are essential in any Mexican repertuare. This recipe is handy when you want to try something different or fresh poblano chillies are not available, which happens in Australia during the winter.
You can change or add to the filling your favourte ingredients. It is all part of the fun.
Print Recipe
Ingredients
4

ancho chillies

3

big size potatoes

1

tomato

¼

white or brown onion

1

garlic clove

250

gr

vegan feta cheese

substitute with any crumble cheese

1

avocado

Vegetable oil

Salt and pepper to taste
For the salsa:
2

tomatoes

1

garlic clove

½

white or brown onion

2

chipotle chilli in adobo

½

cup

veggie stock

Salt
Instructions
With a knife carefully open the chilies so that it is like a pocket, remove the veins and seeds.

Heat about a litre and a half of water in a pot, once it boils turn off the heat and add the ancho chiles. Let them hydrate for about ten minutes. Once hydrated, drain and reserve.

Dice the potatoes, one tomato and the cheese into cubes, finely chop a garlic clove and a quarter of an onion.

Heat a little oil over medium heat and add the onion until transparent then add the garlic and tomato, mix for about 2 or 3 minutes and add the potatoes. Season with salt and pepper to taste, stir and cook for about 5 more minutes, turn off the heat and add the cheese.

For the salsa, char the tomatoes, garlic and the remaining onion evenly and then blend together with the veggie stock a bit of salt and chipotle chillies.

Fill the ancho chillies with the potato stew and serve with the chipotle salsa and avocado on top.

¡Buen provecho!