If you are Mexican you would know what 'Pastel Azteca' is, but the origin of this dish is unknown.  Personally I would think that the best translation would be Aztec tart or pie, rather than cake.
So people say that it is originally from Oaxaca and Baja California, but it is a national dish – something similar to enchiladas or tacos.
Some people refer to it as the Mexican lasagna, and tortillas are used instead of pasta.
Pastel Azteca is another perfect example of the fusion of the two cultures that make up modern Mexico:  Indigenous and European.
Indigenous are the tortillas, salsa and chiles.  Whilst the cheese, cream and chicken had their origin in the Old World.
For this recipe, we lightly fry the tortillas but you don't need to do that.  It is just a personal preference.
You can also create a vegetarian or vegan option by replacing some ingredients.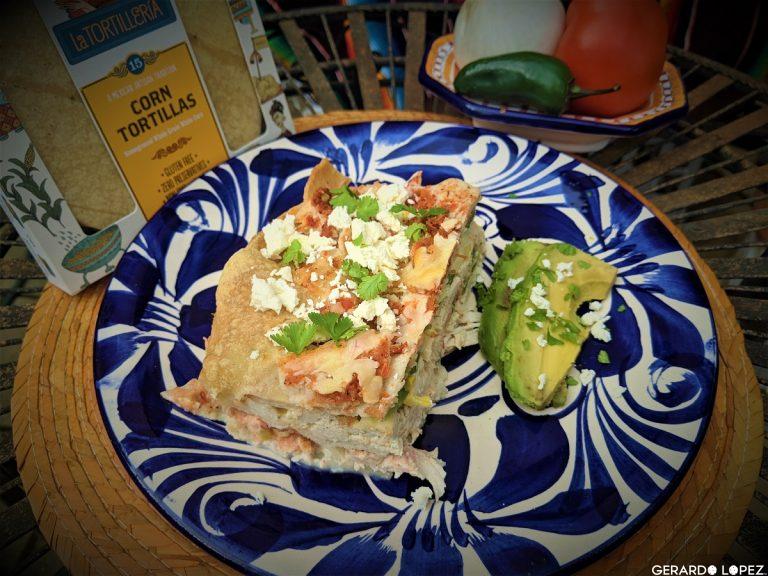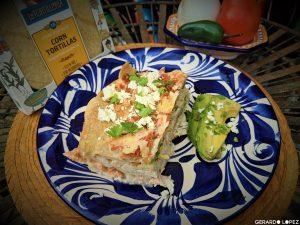 This dish is Mexico's version of lasagna, known as 'Pastel Azteca' or Aztec Pie. Instead of pasta sheets, you use tortillas to separate each layer. It is a meal that is eaten as prepared. 
Print Recipe
Equipment
Baking tray

Medium saucepan

Blender
Ingredients
16

corn tortillas

from La Tortilleria

2

chicken breast

1.5

onions

thinly sliced

1

garlic clove

1

corn

substitude with sweet corn

2

poblano chillies

substitute with green capsicum

300

gr

mozarrella

100

mls

thickend cream

salt and pepper

to taste
Red Salsa 'Caldillo'
4

tomatoes

1/2

onion

1

garlic clove

1

red chilli

or 1 tbsp of chipotle in adobo
Instructions
Place the chicken, ½ onion and one garlic clove in a saucepan. Cover with water and add salt and pepper to taste.  Let it boil at high temperature and then reduce the heat to low, cover the pot with a lid and cook until chicken is tender.  Shred the chicken.

Broil the poblano chillies in a dry frying pan or BBQ until charred. Let them sweat in a plastic bag to loosen the skins, then remove the skin, veins and seeds.  Cut in small strips.

Slice the remaining onion. In a saucepan, heat up a tablespoon of vegetable oil and add the onion slices, corn, and chilli strips.  Cook onion until translucent.

Prepare the salsa as per intructions below

Preheat the oven to 170°C

Heat up ¼ cup of vegetable oil in a frypan at medium to high temperature. When it is hot, place the tortillas in the oil and fry for a few seconds on each side – make sure they don't crisp. Remove the excess oil by placing tortillas on paper towels.

In a baking tray, place a layer of tortillas, a layer of chillie/corn mix, boiled chicken, cream, and cheese.  Cover with salsa. Build as many layers until ingredients are finished.  Make sure you finish with a layer of sauce then cheese on top.

Bake for 20 minutes. When you remove it from the oven, let it sit for 5 minutes prior to serving.
For the 'caldillo' salsa
Blend the tomatoes, onion, red chilli, and garlic clove with half a cup of chicken stock.  Add to the saucepan and cook at low temperature for about 10 minutes.
Notes
For a vegetarian version, replace the chicken with diced fried potatoes or fake chicken strips.
Related Post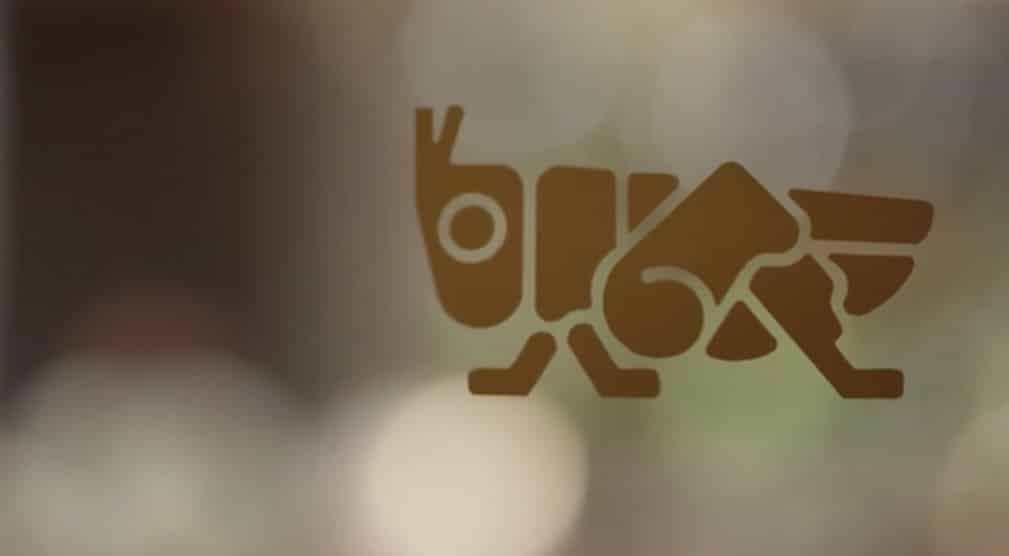 Are Aztecs, Mexicas? Or are Mexicas, Aztecs?
Other Recipes