'Codzitos', the name of this dish comes from the Mayan 'kots' which translates into "rolled up".
The funny thing about these tacos is that they are empty inside, so they are 'tacos de nada' or empty tacos.🤯
'Codzitos' are made from tightly rolled corn tortillas which are fried to a golden consistency. And when combined with the tomato salsa and cheese, it brings out the best of all the ingredients. 😋👌
More than a dish, it is a snack that can be eaten at any time of the day or to accompany a main dish.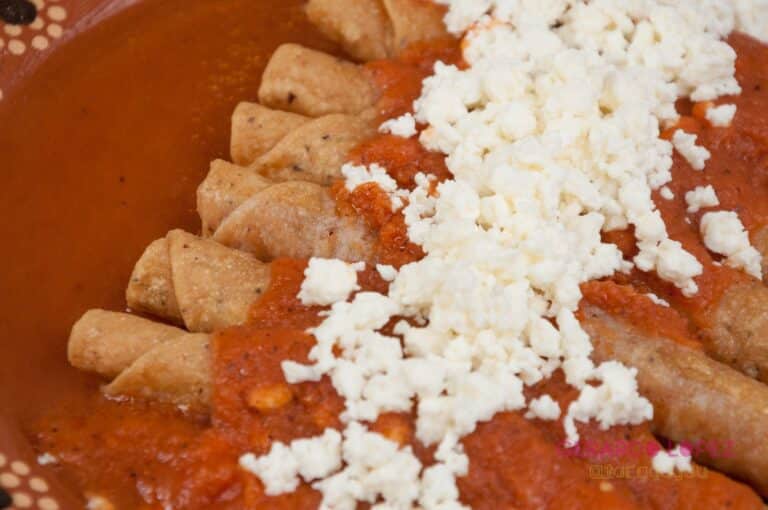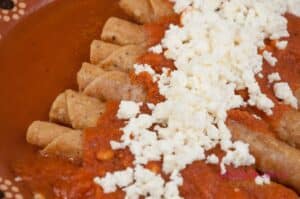 Another great use of tortillas that is simple and very quick to prepare, yet very tasty.
The combination of salsa, tortillas and Mexican cream is a match made by the Mexican gods.
Print Recipe
Ingredients
16

corn tortillas

250

gr

vegan feta cheese

substitute with any crumble cheese

Vegetable oil

Cotton thread

any colour
For the salsa
4

tomatoes

1

habanero chilli

1

garlic clove

½

white or brown onion

½

cup

veggie stock

Salt and pepper to taste
Instructions
In a hot pan, reheat the tortillas on both sides until soft, then roll them as tightly as you can, tie each roll with a cotton thread, and reserve.

Cut the stem off the habanero chilli and remove the seeds. In the same pan used for the tortillas, char the tomatoes, garlic, onion and the habanero, stirring constantly so that they are evenly blackened.

Once charred, blend together with the veggie stock. Heat a little oil and sauté the salsa adding salt and pepper to taste. Cook over low heat for about 10 minutes.

Heat enough oil to fry the tortilla rolls. Let them fry for a couple of minutes and turn them. Let them sit in a bowl with a napkin to absorb the excess oil.

Remove the thread from the tortillas and serve in a large plate, cover with the salsa, crumble the cheese and add on top

¡Buen provecho!
Related Post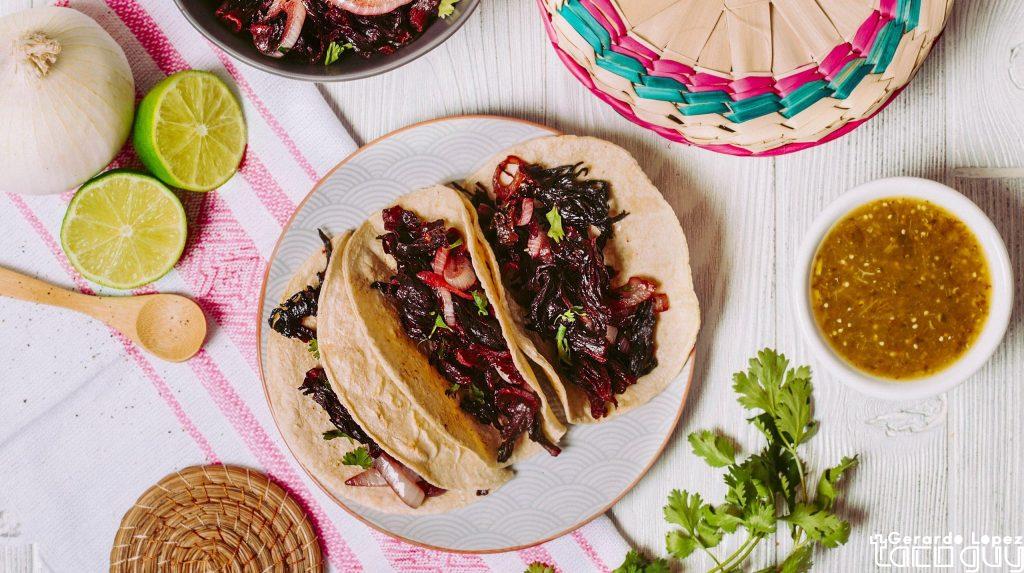 Hibiscus Flower Tacos
Tacos de Jamaica
Other Recipes