This pork stew recipe is my version for 'Asado de Bodas', best translated as wedding stew, from the Zacatecas state in México.
I think the salsa used in this recipe resembles mole but its preparation is quite simpler than the mole.
It is originally made with a dry bread roll but I love it with an 'old tortilla' instead. I think tortillas should never be wasted.
Legend has it that it originated during the Mexican Revolution when Pancho Villa arrived in the state of Zacatecas and asked for a dish with pork and chillies to celebrate.
Since then, the dish was associated with celebrations and became a typical dish for 'bodas' or weddings.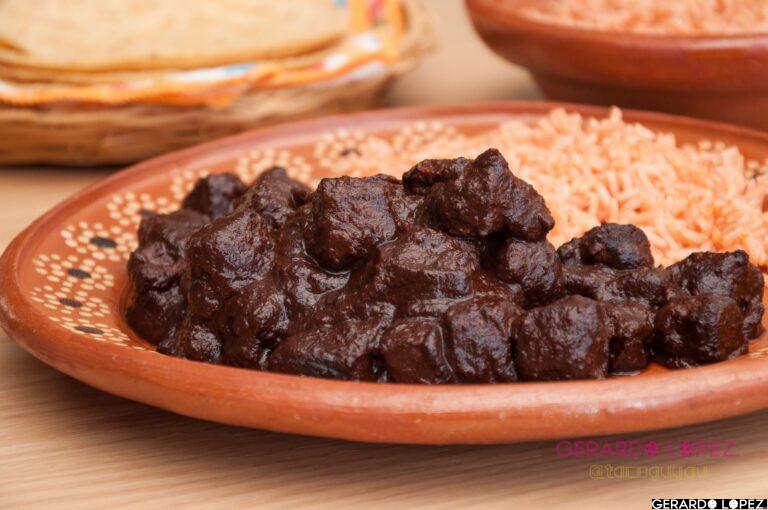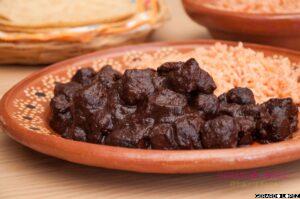 Asada de Bodas
Asado de Bodas
A traditional dish from Zacatecas that says Celebrations and Sharing all over. And that is what Mexican food is all about, celebrating around the table whilst sharing unique moments.
Print Recipe
Ingredients
1

kg

free-range pork leg

diced

1

white or brown onion

2

garlic cloves

2

bay leaves

1

old corn tortilla

alternatively leave a corn tortilla on bench until dry

¼

tbsp

ground Mexican oregano

½

cinnamon stick

4

ancho chillies

1 ½

cup

orange juice

50

g

chocolate broken into pieces

Vegetable oil

Salt and pepper to taste
To serve
16

corn tortillas

preferably from La Tortillera
Instructions
Heat a little bit of oil in a saucepan and add the pork, turning on all sides for about 5 minutes or until golden brown.

Cut half onion in stripes and add to the saucepan, stir for another 5 minutes and add a garlic clove, a bay leaf and enough water to cover it, cook for an hour over medium heat with the lid on.

For the salsa, heat a little oil in another saucepan and fry the rest of the onion, garlic clove and the old tortilla evenly. Add a litre of water along with cinnamon and Mexican oregano.

Remove the steam, seeds and veins from the chillies. When the water for the salsa starts to boil, turn off the flame and add the chillies. Leave to simmer for 10 minutes.

Blend the content of the salsa saucepan with the orange juice and strain, removing any excess liquid.

When most of the water in the meat pot has evaporated. Add the salsa, chocolate, salt and pepper to taste. Stir well and cook for about 10 more minutes.

Reheat tortillas by placing them in a very hot pan two at a time and flipping them when steams to rise.

Serve the pork with tortillas and a side of Mexican rice.

¡Buen provecho!
Related Post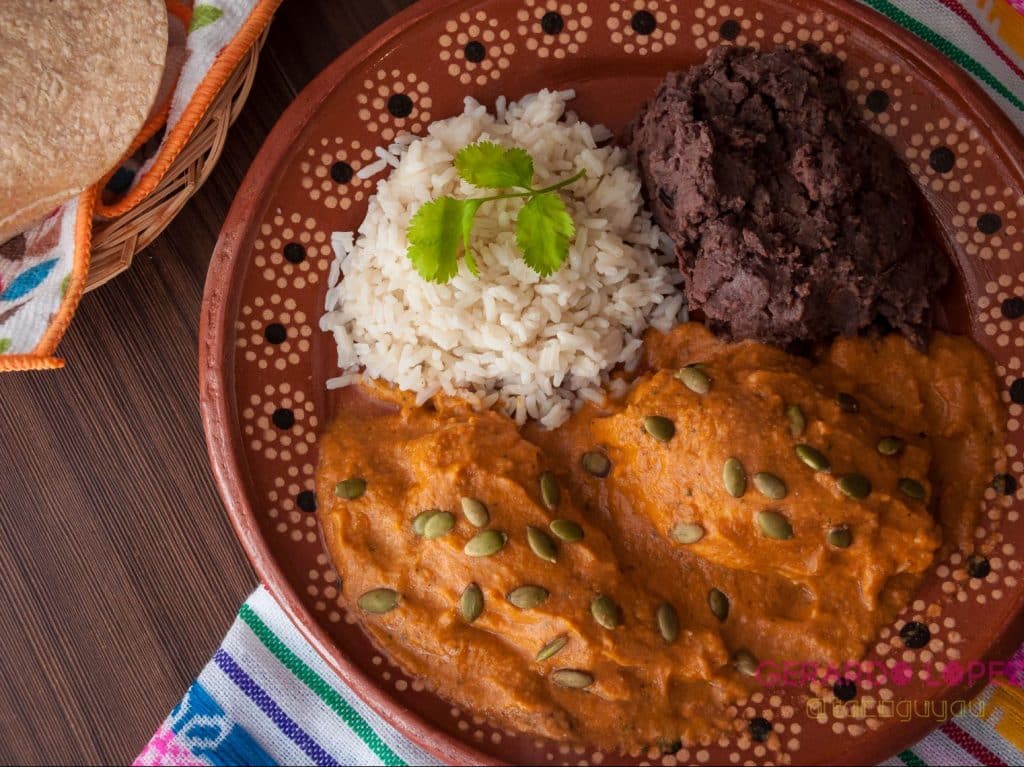 Chicken in 'Pipian' Pumpkin Salsa
Pollo en Pipián
Other Recipes