Enjoyed by everyone in Mexico regardless of social status, the humble 'frijol' has been part of the Mexican diet for millennia.🇲🇽
This is a simple recipe to prepare one of the basic, yet very important, dishes of the Mexican cuisine repertoire.  More than half of the traditional dishes of Mexican cuisine have or are served with beans, therefore, it is important to get the basics right.
This is a recipe with just the basic ingredients, beans, onion, garlic and chilli. However, I have provided options for more combinations but also I will invite you to explore new combinations and personalise your own 'frijoles'.
This recipe in Mexico is called, 'Frijoles de la Olla'.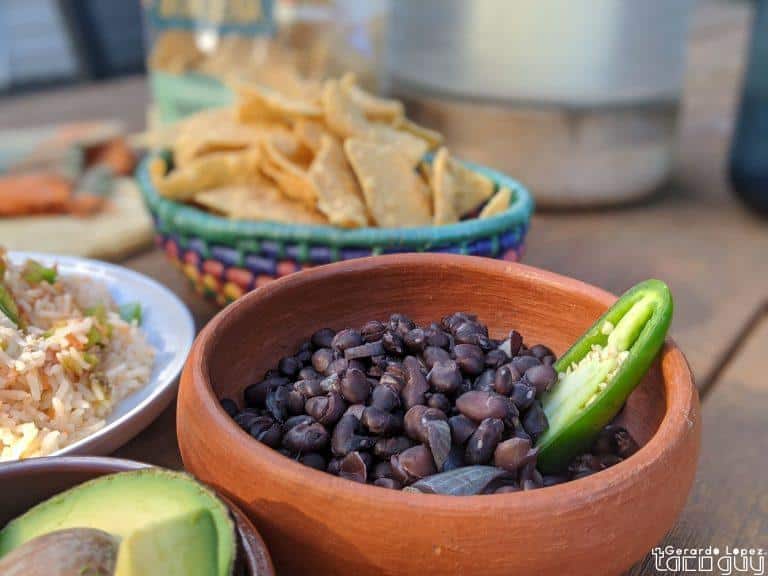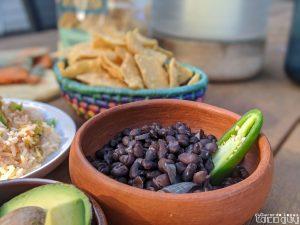 Mexican black beans
Frijoles de Olla
Probably one of the most popular dishes in Mexico that is both full of history and flavour. This is a simple recipe that you can personalise with the spices and combinations you most prefer.
Print Recipe
Ingredients
250

g

dry black beans

replace with other bean varieties like pinto, kidney, etc.

1

medium onion

chopped

2

garlic cloves

chopped

1

dried chipotle chilli

replace with chipotle in adobo or fresh jalapeño chilli chopped

1

lt

water

olive oil

salt

to taste
Instructions
Soak the beans in 1/2 litre of water and let them rest overnight - or a minimum of 4 hours.

Drain the water from the beans and put in a saucepan with1/2 little of water. Bring to boil.

Once it is boiling add the onion, garlic, chilli, and salt. Reduce the heat to low flame. Cook for at least 2 hours or until soft.

Serve hot in a bowl and add a bit of olive oil as garnish.
Notes
There are many additional ingredients you can add to the cooking:
Some people like adding lard or vegetable oil when cooking the beans
You can also add epazote or coriander as an extra spice
You can also add some chicken or vegetable stock to add flavour
For garnish, you can add the following ingredients on top when serving:
Chopped onion and coriander
Crumbly cheese or substitute
A few drops of cream or substitute 
Fresh chillies finely chopped 
Avocado slices
Instead of cooking in a saucepan, you can use a pressure cooker and you don't need to soak the beans overnight.  They will be ready in 30-35 minutes. 
Related Post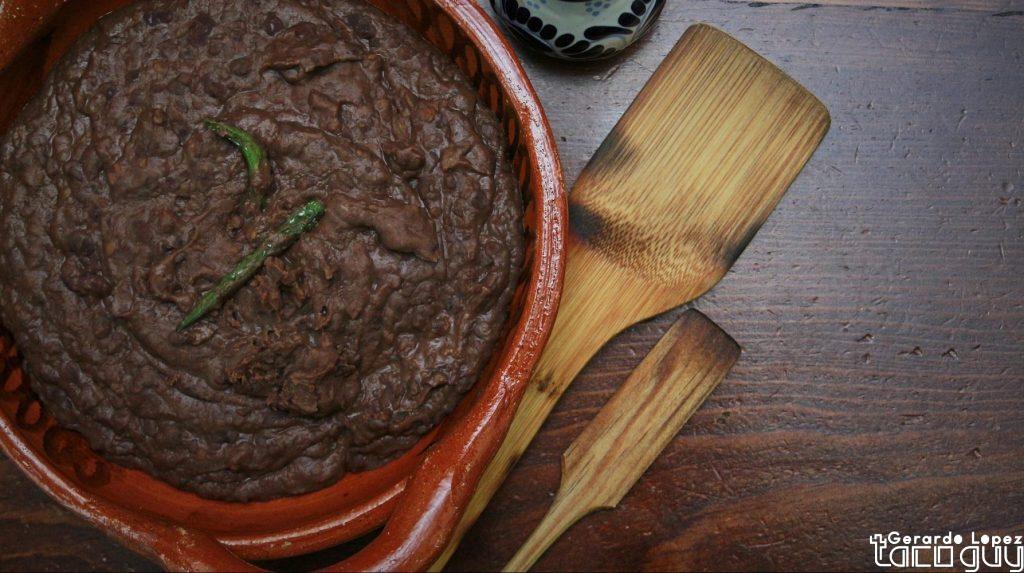 Refried beans
Frijoles Refritos
Other Recipes