'Caldo tlalpeño' is a tasty traditional Mexican soup🇲🇽 prepared with chicken broth, tomato, chipotle, and shredded chicken.
This soup is served with avocado🥑, cheese🧀, and Mexican cream, although there are many variants depending on where in México you are.
It is said that it is originally from Tlalpan, in the south of México City, but there are those who attribute it to the town of Talpa de Allende, in Jalisco.
One of those things we may never know🤔, but I'm certain that this soup is very popular where I'm from in México.
The ideal comfort food for cold days or sleepless nights😁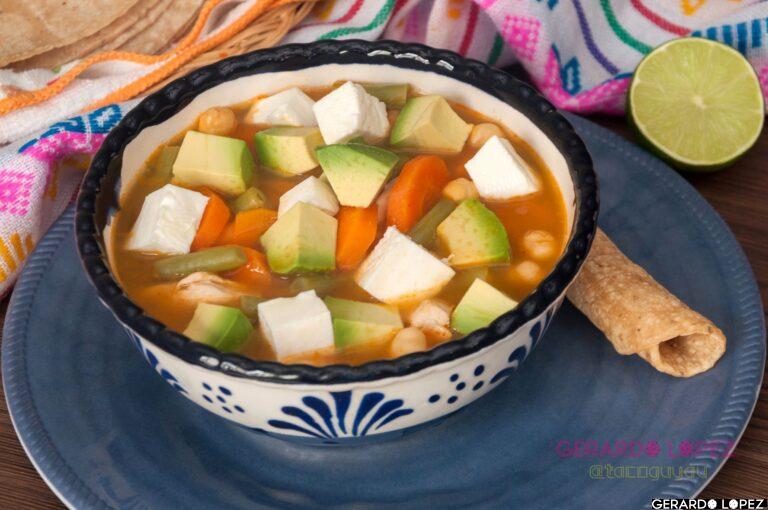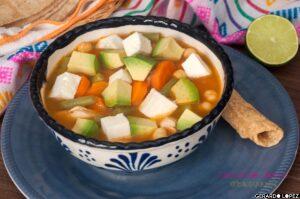 Caldo Tlalpeño
Caldo Tlalpeño
This is how you make your chiken soup a bit more Mexican and fun!
The principles are the same, what is different is the ingredients added to it.
Print Recipe
Ingredients
500

g

chicken breast

2

cups

chickpeas

replace with a tin of cooked chickpeas

2

carrots

3

tomatoes

½

white or brown onion

2

garlic cloves

250

g

green beans

½

cup

veggie stock

3

chipotle chillies

Vegetable oil

Salt to taste
To serve:
250

gr

feta cheese

substitute with any crumbly cheese

1

avocado

2

limes

12

corn tortillas

preferably from La Tortilleria
Instructions
Allow the chickpeas soak in water overnight to begin to soften. You can skip this step if you use tinned chickpeas.

Boil about 2 litres of water and dice the chicken breast. As soon as the water boils, add the chicken and cook for about 10 minutes over medium heat.

Peel and wash the carrots, cut them into thin slices, and dice the tomatoes, half-onion, and garlics. Peel the chickpeas and cut the edges of the green beans and then cut them into 4 parts.

Skim off any foam that may have formed from the chicken, add the carrots, chickpeas, a little bit of salt and the veggie stock to the broth. Let it cook for another 20 minutes.

Heat up some oil in a pan and lightly saute the onion until transparent, then add the tomato and garlic. Cook over medium heat for about five minutes and blend with the chipotles.

Add the mixture to the chicken and simmer for 10 more minutes.

Serve with avocado, feta cheese on top. Cut the limes in half, reheat the tortillas and serve as a side.

¡Buen provecho!
Related Post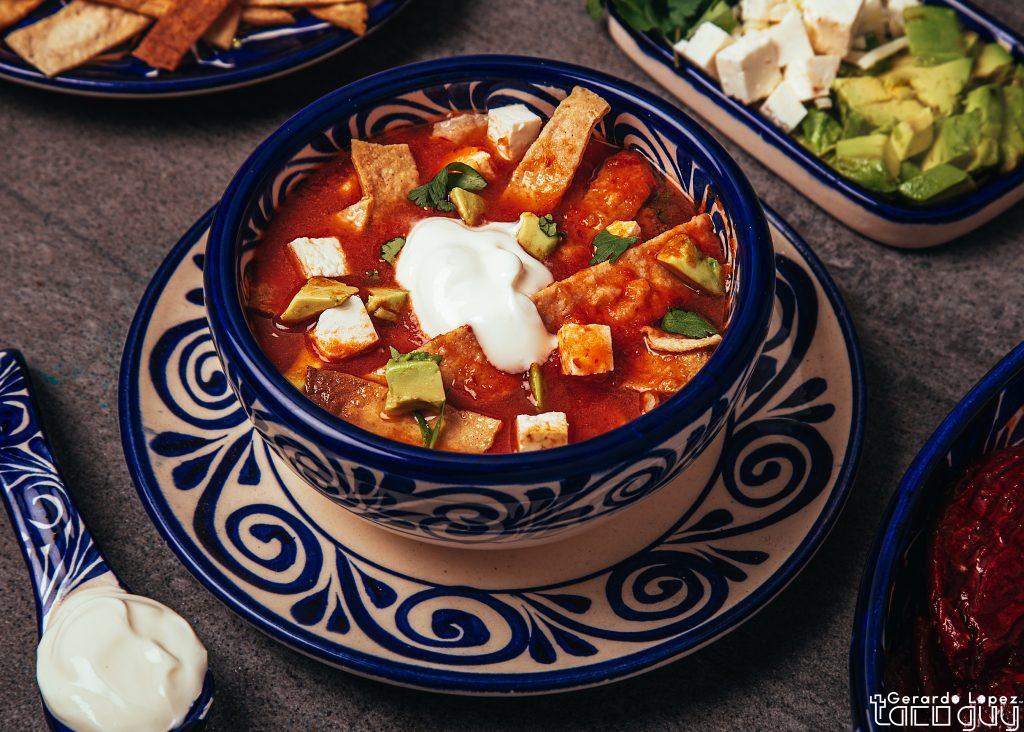 Traditional Tortilla Soup
Sopa de Tortilla Tradicional
Other Recipes