Have you ever dreamt about a taco filled with corn chips and salsa?!  🌮🙌
Well, this taco will surely satisfy your cravings for crunchiness. ⚡⚡⚡
This fish taco is battered with tortilla crumbs that when fried will bring that extra crunchiness to the batter.
I came up with this recipe when looking for something different to cook for My Market Kitchen, an Australian TV cooking show. I knew that Australians, and perhaps the world, were in love with fish tacos but needed something different, something with a punch. 🐟🌮👊
The avocado salsa is something I had been working for quite some time, as I was looking for replacements for tomatillos which are seasonal in Australia.
I hope you enjoy this recipe!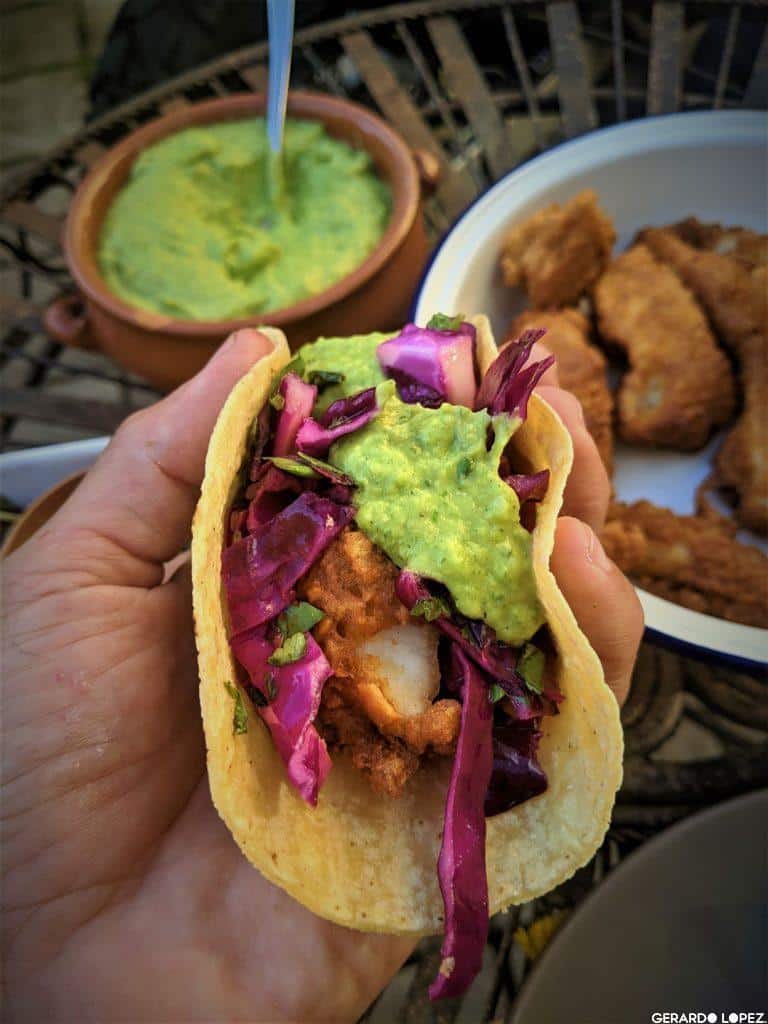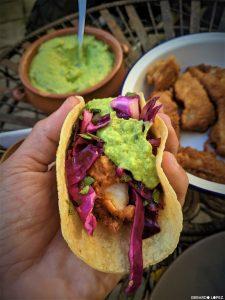 Tortilla Battered Fish Taco with Avocado Salsa
Taco de pescado capeados con tortilla
Australians, and perhaps the world, are in love with fish tacos. 🐟🌮
When I was asked to prepare a recipe to present at the AustralianTV show, My Market Kitchen, I decided that a crunchy fish taco would be perfect. ⚡
I wanted to make a crunchy batter and after trying many options, it occurred to me that using tortillas you can add a lot of crunchiness when frying them.  So why not add tortilla crumbs to the batter so when fried with the batter these become tortilla chips crumbs.
Well, this is the result. 🙌
Print Recipe
Equipment
Blender

Frying pan

Mixing bowls
Ingredients
300

grams

of snapper filet

skin off and cut in 3cms slices

8

corn tortillas

from La Tortilleria

200

ml

vegetable oil
Batter
4

corn tortillas

from La Tortilleria

3

tbsp

corn flour

have some extra for coating

1

tbsp

baking powder

1

egg

1

tbsp

chipotle in adobo

1

tbsp

garlic powder

¼

cup

of mineral water
Avocado Salsa
1

small zucchini

diced vertically in 4 parts

2

avocados

preferably hash

2

garlic cloves

½

onion

preferably white or yellow

2

jalapenos chillies

cut in half and stalk removed

½

bunch of coriander

¼

cup

veggie stock

2

tbsp

extra virgin olive oil

1

lime

juiced

Salt to taste
Garnish
½

purple cabbage

finely chopped

½

bunch of coriander

finely chopped

1

lime

juiced

2

tbsp

extra virgin oil
Instructions
Cover a frying pan on a thin layer of oil and bring the flame to medium heat.

Lightly fry the zucchini, chillies, onion and garlic; remove when starting to get brown and place in a blender.

Add the lime juice, coriander, veggie stock, olive oil, avocado and salt. Blend until you have achieved a smooth consistency.

Place in a sealed container and store in the fridge until ready serve.

In a bowl, mix all the ingredients for the garnish.

Prepare the batter by mixing all the ingredients in a food processor or blender. Add the mineral water slowly until you achieve a thick consistency for the batter.

Place the batter in a mixing bowl, and the additional corn flour on another. In a frying pan or fryer, add enough oil to cover submerge the fish and heat the oil at medium temperature.

Grabbing one piece of fish at a time, toss it on the flour, then cover on batter and put it in the hot oil. Place the battered fish on paper towels to absorb the extra oil.

On a very hot frying pan, place the corn tortillas on each side until soft and floppy, wrapping them in a tea towel as you go to stay warm.

Assemble the tacos by putting a piece of fish on each tortilla, then garnish followed by salsa on top.
Related Post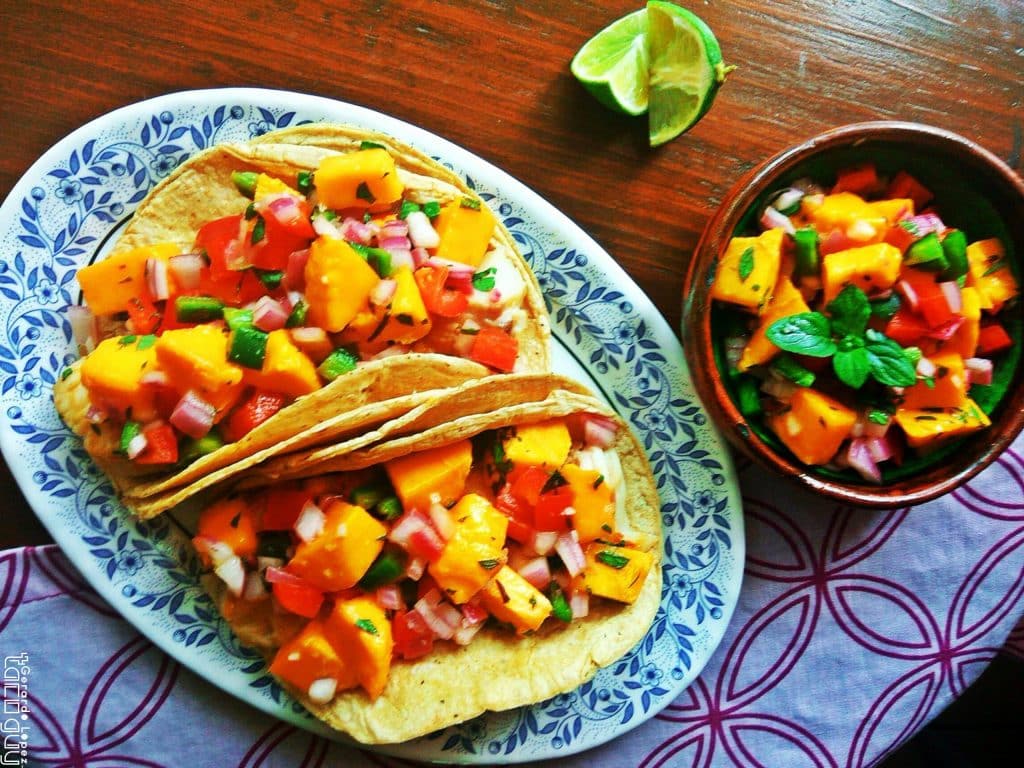 Grilled Fish Taco with Mango Salsa
Tacos de pescado a la plancha
Other Recipes