'Carne en su jugo', best translated as Meat in its juices, it is a typical dish from Guadalajara, Jalisco.  People in Guadalajara spell it with K – 'Karne en su jugo', there are many theories about why  .  But given that this is my own interpretation of the recipe and out of respect for the 'tapatio' people I have left it with a C.
When filming for 'This is Mexico' in Guadalajara, we visited a popular restaurant by the name of Kamilos 333 that serves this dish. Don Fermin, the current owner and son of the founder, told us that this dish represents the different aspects of Guadalajara and amalgamates the indigenous past of the region with its modern and progressive cuisine.
The dish is prepared by slow cooking the beef in its own juices with beans, chilli, and tomato.  The dish is garnished with bacon, onion, and coriander. On the side, the dish is complemented with warm corn tortillas and limes.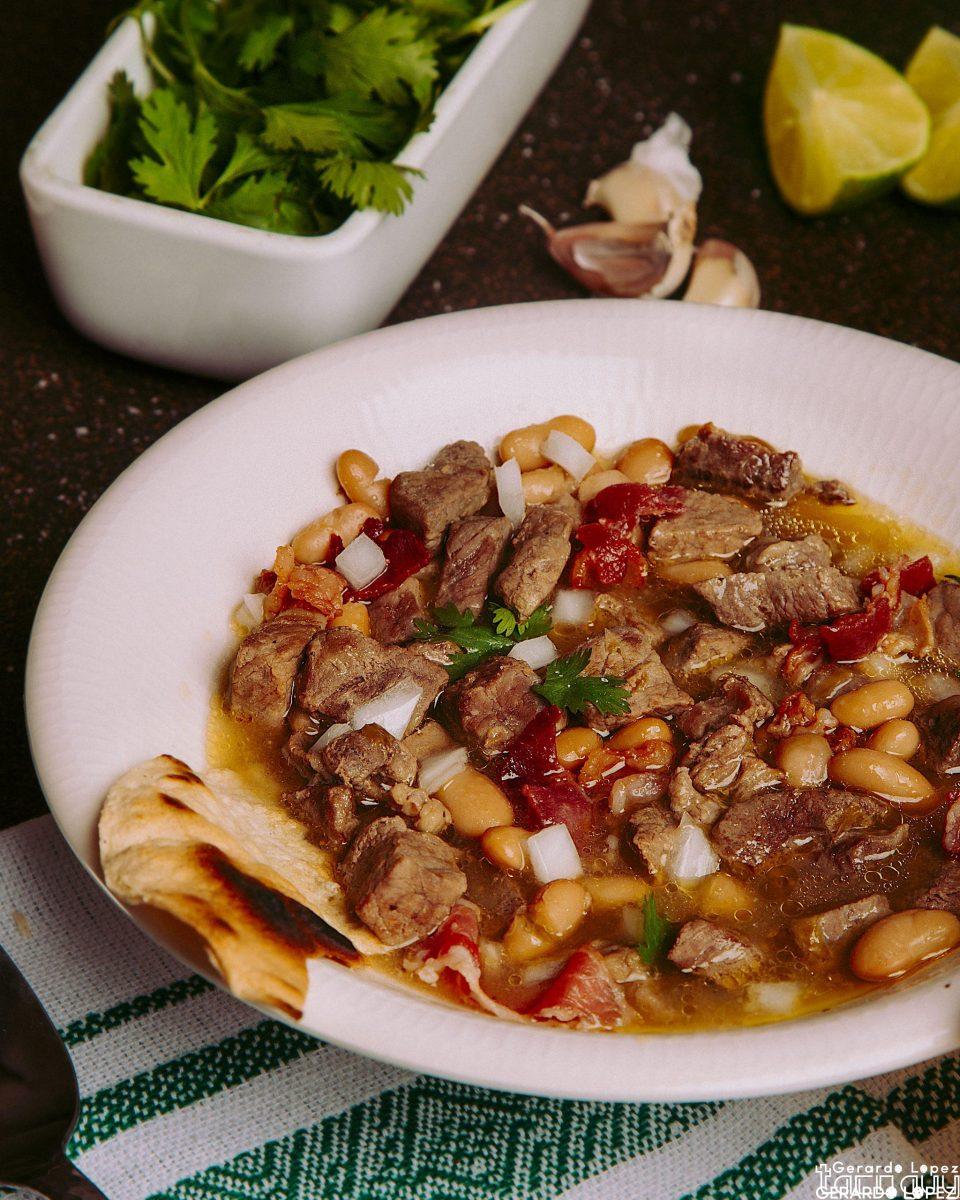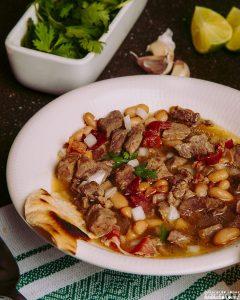 Carne en su jugo / Meat in its juices
Carne en su jugo
A typical dish from Guadalajara that perfectly depicts what this city is all about. There are many versions of this dish and people in Guadalajara spell it K - Karne. I'm not from Guadalajara and this is only my interpretation of this dish.
Print Recipe
Equipment
Pressure cooker

Saucepan

Frying pan
Ingredients
400

gr

whole pinto beans

substitute with Borlotti or Kidney beans

6

slices

of bacon

chopped

1

kg

beef sirloin

4

fresh tomatillos

replace with tin tomatillos or regular tomatoes

2

green long chilies

replace with serrano o jalapeños if available

1

garlic clove

2

beef stock cubes

½

white onion

finely diced for garnish

¼

coriander bunch

finely chopped for garnish

12

corn tortillas

for garnish

4

limes

cut in wedges for garnish

Salt and pepper to taste
Instructions
Allow the beans soak overnight in water and then cook in a saucepan with 2 litres of water for 2 ½ hours until soft. Make sure you cover the saucepan whilst cooking and keep the broth. If you have a pressure cooker, then just place the beans and water for 22 to 25 minutes until soft.

In a frying pan, add the bacon until it crisps then remove and place it on a paper towel to remove excess fat.

On the same pan and without cleaning, place the sirloin to sear, season with salt and pepper, and remove when is cooked on both sides. Then remove and cut in 2cms chunks.

Boil the tomatillos, chilies and garlic in 1 litre of water and add the 2 beef stock cubes. Let it cook for 15 minutes and then blend all the content until you get a smooth consistency.

Using a strainer, pour the content of the blender in a large saucepan with the beans' broth – not the beans. Add the meat and cook for 90 minutes at low temperature.

Remove the meat from the heat and add the beans and mix together.

Serve the meat and its juices on a bowl, and garnish with onion, bacon, and coriander on top.

Serve with warm tortillas and lime wedges.
Notes
You can also serve with tostadas by placing your tortillas in the over at 120ºC for 10 minutes or until crunchy. 
As a side you can also serve the dish with totopos, radish, refried beans, grilled onions, etc. 
Related Post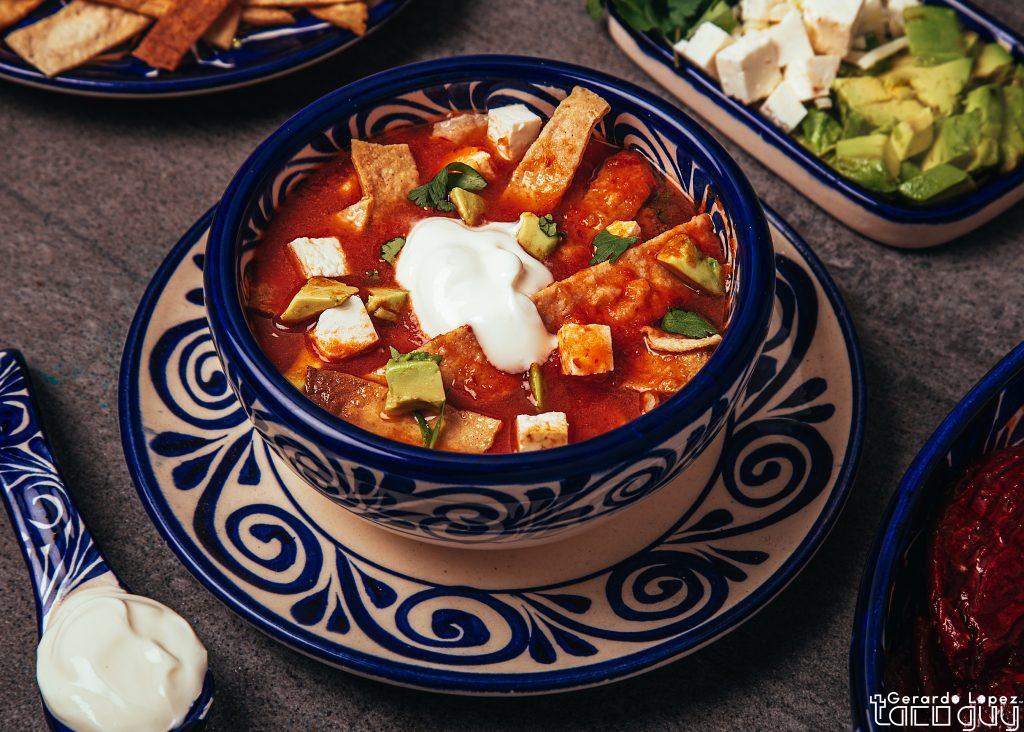 Traditional Tortilla Soup
Sopa de Tortilla Tradicional
Other Recipes