Why are tortillas essential to Mexicans and their cuisine?
Tortillas have been an integral part of the Mexican diet for millennia. To be honest, I don't remember when I had my first tortilla, but I do remember that my mum will always have them on the table at lunch and dinner, and sometimes for breakfast.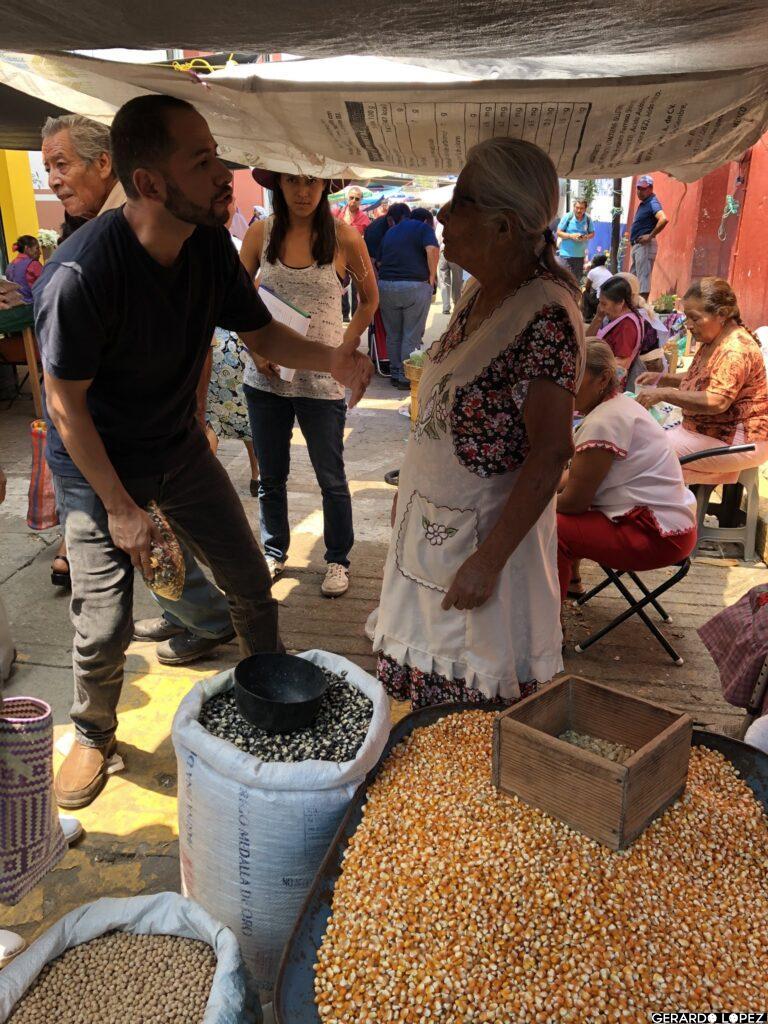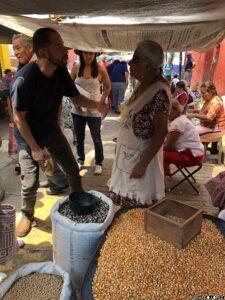 Tortillas date back to pre-Hispanic times, that is corn-tortillas. Even before the great civilisations of the Mayans, Olmecs, and Mexicans (incorrectly referred to as Aztects) were around, tortillas were already consumed in Mesoamerica. Mesoamerica refers to the areas that today constitute México, Belize, Guatemala, Nicaragua, Honduras, and Costa Rica. It is no surprise that tortillas are a staple on every table in these countries, including the U.S.A. where tortillas are the biggest selling bakery product.
Many of my foreign friends, and after trying many of my cooking meals, tell me that every dish in Mexican cuisine includes a tortilla or an implementation of it.  Whilst this is not necessarily true, I can see how foreigners think that tortillas are everywhere in Mexican cooking. We use corn on most dishes we cook, from kernels, masa to tortillas. And well, it is not a surprise given that corn is native México and the cornerstone of its ancient civilisations.
Now, we are referring here to corn tortillas only.  But a whole blog could be written about wheat tortillas, their history, and their importance to México and its gastronomy.  But that will have to wait 😊
To learn more about tortillas, check my blog about nixtamal process, which is the secret behind real tortillas and how we craft them at La Tortilleria in Australia.
Tacos and Tortillas
Given that tacos are an icon of street food in México, and represent Mexican food all over the world, it doesn't surprise me that people outside of México tend to confuse tortillas with tacos and vice versa. And whilst both are interwoven, the reality is that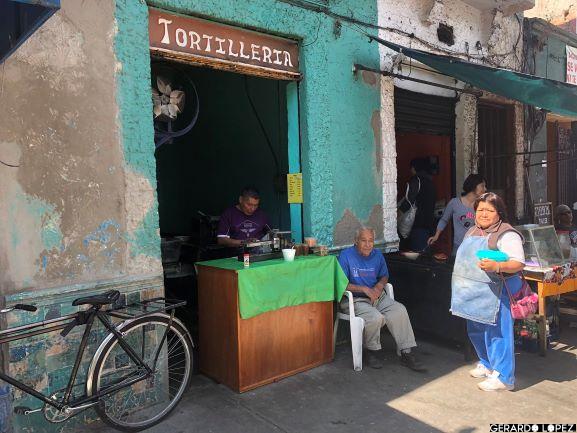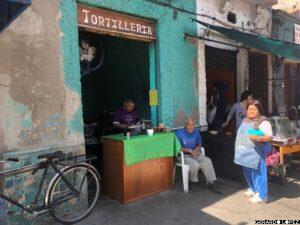 tortillas are an ingredient of tacos but not the other way around.
Every Mexican will tell you that a good taco has three main components:
Tortilla, made using 100% corn and following the ancient nixtamal process.  This tortilla needs to be reheated properly so that it is soft and malleable.
Filling, there are hundreds if not thousands of different fillings for tacos.  In México, the most popular meat used for fillings is beef, followed closely by pork.  And, there are many delicious vegetarian recipes too – with more and more vegan options added as we speak.
Salsa, to finish up the taco and add that personal touch.  Taquerias in the streets of México will have a selection of salsas with different ingredients and heat levels.  Each of these salsas is a family secret which is very well kept.  You can also let your taquero select a salsa for you that matches your filling.
What makes a good corn tortilla?
This is the million-dollar question that Diana and I had when we started thinking about opening La Tortilleria in Melbourne, Australia.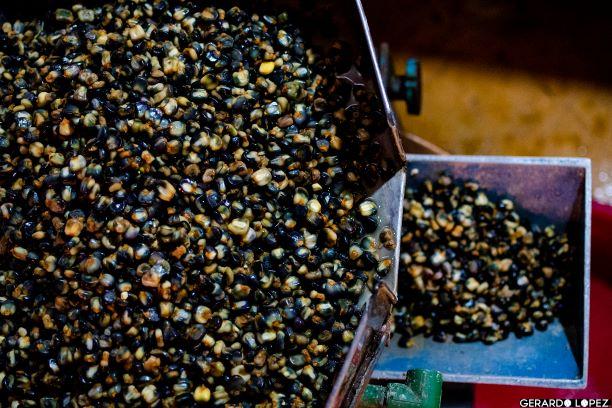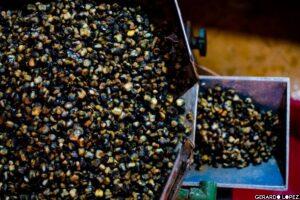 To me, a good tortilla is that made with 100% maize – also known as field corn and not to be confused with sweet corn.  Sweet corn is a vegetable whilst maize is a cereal. For simplicity's sake, we will refer to maize as corn in this blog. The other key requirement is that tortillas need to be made using the ancient process of nixtamalisation. Nixtamal is the traditional way tortillas are made in the villages in México and Central America and it is also how we make them at La Tortilleria in Australia.
Nixtamal is an ancient process that possibly dates back to more than 5,000 years and I believe it was first discovered by indigenous women who inhabited what today is México  And whist many would think it is a buzzword, there is actually a lot of wisdom in the process which not only makes corn softer to process but releases its nutrients.  Check out my blog about nixtamal here.
So, how do you reheat tortillas?
To make a good taco or prepare one of the many Mexican dishes that use tortillas as a base, you are going to need a good tortilla but also you need to reheat it properly.  Over the many years I have been working with tortillas, I have tried dozens of different ways to reheat these tortillas properly and the following are the more effective but also easy to use.
Frying pan, flat grill, or comal.
For most of you, this will be the most convenient and easy way to reheat tortillas.  I use this technique when camping and works perfectly – whether using a gas stove or over a small fire.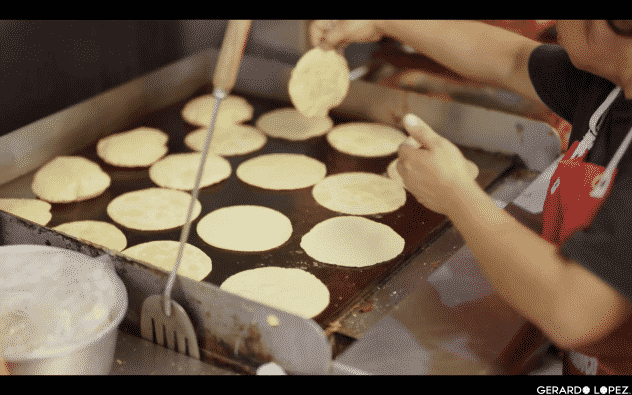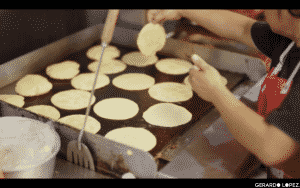 A 'comal' is a flat and rounded metal surface used in México to reheat tortillas and char cooking ingredients, especially for salsas. 'Comales' are made of either a think metal layer or iron cast, sort of a rounded flat grill pan.
The process, and some valuable tips, to reheat the tortillas using a hot and flat surface include:
Make sure you use an even surface but don't worry if you don't have one, you can use a standard grill pan. The only difference is that it may take a couple more seconds on each side and the grid from the pan will imprint the tortillas with a black-charred line.
Place your pan or 'comal' in the stove and bring the flame to high. Make sure the surface is clean or otherwise it will fill out the house with smoke and possibly make your tortillas taste funny.  I can't stress how important this step is, you need your pan to be very hot or otherwise, tortillas will take longer to reheat and potentially dry up in the process.
Once the pan is hot, grab two tortillas and place them on top of each other on the pan surface. Place as many piles of two tortillas as you can within the surface you have available – you can use multiple pans to expedite the process.
When steam starts to rise from the tortillas, which should happen after about 15-20 seconds, flip the tortillas and reheat the other side for 10 more seconds. By using two tortillas at a time you are creating a pocket of air between them that traps the steam of the tortillas as they reheat.  This will make your tortillas extra soft and playable.
Place the tortillas on a tea towel and wrap them up to keep them warm. If you have a tortilla warmer you can place the tea towel inside, alternatively, you can use a plastic container.  This will make sure your tortillas keep warm and soft for the next 10 to 20 minutes.
Repeat 😊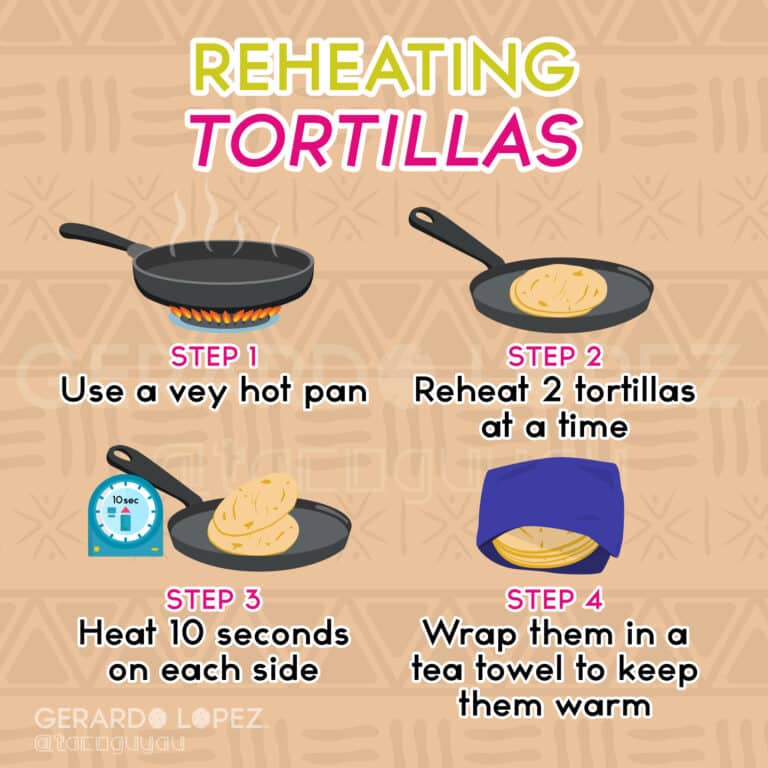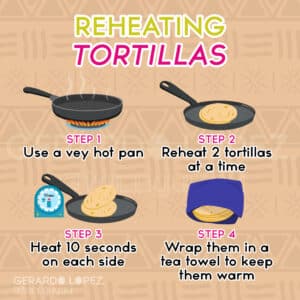 Sandwich press grill
I first discovered these electric devices in Australia and oh boy! they are so good and efficient way to reheat tortillas.
Sandwich press grills are nothing else than two electric flat grills that come together to reheat and toast any food put in between the two plates.  I prefer the presses that have flat grills, as they work best for tortillas.  But just like with grilling pans, if it has grill lines it is no problem, it will just take an extra more second to reheat.
The steps to reheat are way simpler when using a sandwich press:
Place the tortillas in the sandwich press, as many as you can fit, and only one per layer.
Press the tortillas for 10 seconds or until steam rises. The two plates of the press trap the humidity and steam from the tortillas which keeps them soft.
Place the tortillas in a tea towel and repeat. Alternatively, you can bring the press to the table and reheat the tortillas to use straight from the press, you will need a long extension cord to bring to the table 😊
Microwave
Whilst microwaves are very handy to reheat food, for tortillas it can be a little tricky as the tortillas will lose a lot of their humidity and make them hard.  The secret to reheating tortillas in a microwave is to wrap them in a damped tea towel and place them in the microwave.  Note that every microwave is different so the instructions below may be different:
For one tortilla, place the tortilla on a plate and cover it with a lightly damped tea towel. Microwave at a medium power level for 15 to 20 seconds or until steam rises.
For multiple tortillas and up to 20 tortillas, give them a shake first to separate them and then wrap the pile of tortillas in a damped tea towel. Place the wrapped tortillas on a plate and inside of the microwave.  Set the microwave power at medium level and reheat for 60 to 90 seconds or until steam rises from the tea towel.
When you open the microwave if steam is rising from the tea towel then check the tortillas are soft, otherwise, go for a few more seconds until you get the right time for your microwave.
Other tips to make the best of your tortillas
When storing your tortillas, always keep them airtight and place them in the fridge.
You can also freeze your tortillas, if they are nixtamal and whole corn you don't need to separate them with layers of baking paper. But if you want small packs, I suggest you freeze separately.
You can also reheat your tortillas in the oven, however, be aware that the oven removes a lot of the moisture so you are going to need an oven pot with a lid and place the damped tea towel with tortillas inside. The oven will also take about 20 minutes or more to reheat, hence to me is not an efficient way, unless you already using the oven for something else.
You can also reheat your tortillas on a BBQ with your sausages or whatever else you BBQing. I suggest you place tortillas in piles of 3-4 tortillas and flip through them to prevent them from burning.  With one or two tortillas, it is likely that some parts of them will burn before the tortillas are warmed up, especially if you have the BBQ lid opened or opening frequently.
Remember it is all about reheating the moisture of the tortilla without losing it. Tortillas have a high percentage of humidity, about 40% and more, so they could dry up very quickly if reheated for more time than needed.
If your tortilla dries up, you can spray some water on them to keep them soft but only was they reheating. Alternatively, you can let them keep going until they lose all the humidity and become crunchy as a tostada or totopos.
Remember, corn tortillas should not be wasted. You can always make them into corn chips by frying them or baking them.
Related Post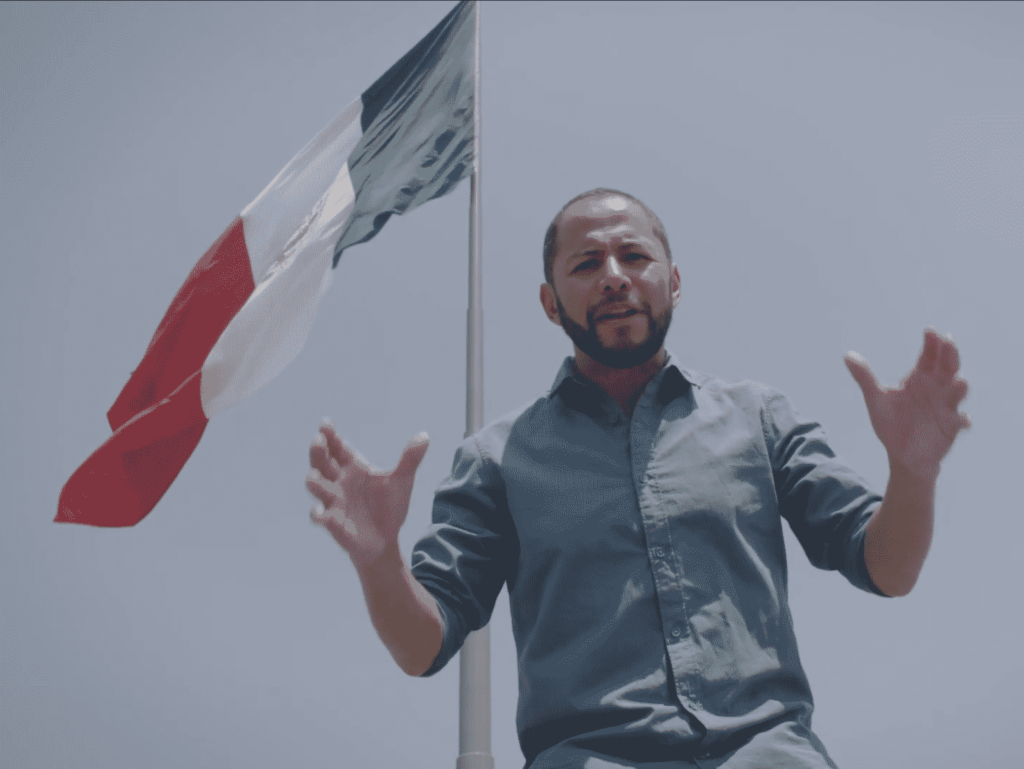 México's Independence Day
Other Blogs